Thursday Fixtures/Results
Leeds City/The Edge
This weeks fixtures
Thursday 18th August
The Edge
7pm Flaming Hoops vs Gryphons
7.40pm Stormers vs Amity
8.20pm Mix Up's vs Stormers
Leeds City Academy
6.40pm Gems vs Jet Ballers
7.20pm Koalas vs All Saints
8pm Warriors vs Ballers
8.40pm Anne Ballin vs Tigers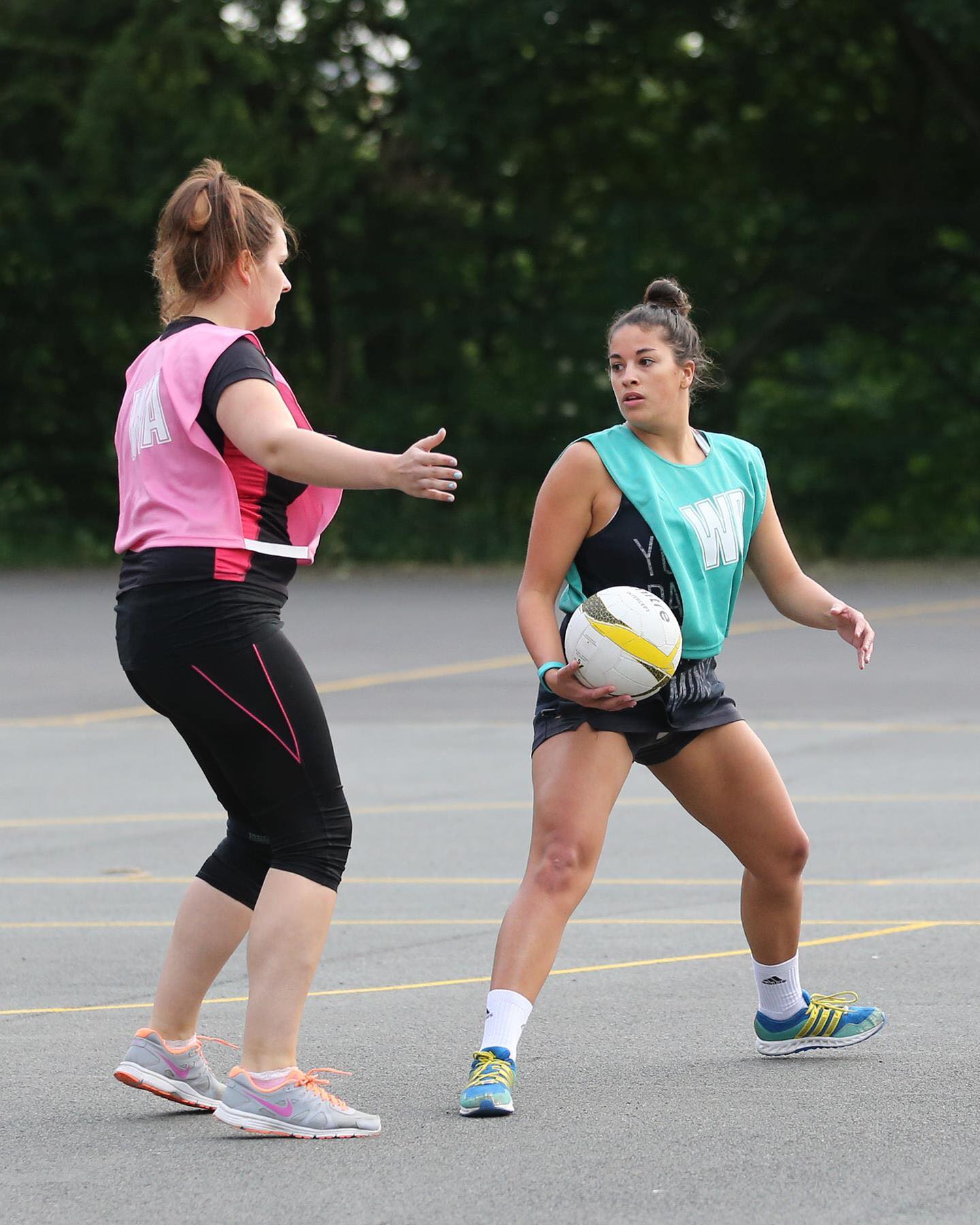 Thursday 7th July
The Edge
7pm Koalas 34-13 Gryphons
Sharon Gallagher & Michelle Smith
7.40pm Amity 21-26 Mix Up's
Hannah Jordan & Catherine Gray
8.20pm Stormers 15-13 All Saints
Alice Baker & Ellis Hagan
No Game Flaming Hoops
Leeds City Academy
7pm Anne Ballin 5-29 Warriors
Molly Niklas & Chelsea Davidson
7.40pm Gems 16-20 Ballers
Carol Oldroyd & Jessica Lofthouse
8.20pm Jet Ballers 25-8 Tigers (F)
Sophie Longdon & Beth Maull
Thursday 14th July
Leeds City Academy
6.40pm All Saints 30-31 Mix Up's
Lauren Faulk & Catherine Gray
7.20pm Flaming Hoops 16-22 Koalas
Laura Ward & Vicki Gee
8pm Amity 19-23 Koalas
Hayley O'brien & Vicki Gee
8.40pm Gryphons 19-25 Stormers
Sarah Watson & Gill Meakin
The Edge
7pm Anne Ballin 16-18 Tigers
Rianne Docteur & Beth Maull
7.40pm Gems 19-13 JetBallers
Beth Burnhill & Helen Cooke
8.20pm Warriors 16-10 Ballers
Izzy Taylor & Sarah White
Thursday 21st July
The Edge
7pm Amity 22-13 All Saints
Hannah Jordan & Becky Cameron
7.40pm Stormers 13-20 Flaming Hoops
Amber Dickinson & Kate Sauage
8.20pm Gems 20-0 Tigers
Flo Stow & Vicky Skarupke
Leeds City Academy
6.40pm Warriors 9-22 Jet Ballers
Becca Carr & Sophie London
7.20pm Anne Ballin 10-30 Ballers
Martha Bedford & Jessica Lofthouse
8pm Mix Up's 21-15 Gryphons
Catherine Gray & Jaqui  Manton
8.40pm Koalas 23-18 Mix Up's
Hannah Bates & Ceri Ewen
Thursday 28th July
The Edge – Rearranged due to venue complications
7pm Stormers vs Koalas
7.40pm Amity vs Gryphons
8.20pm Gems vs Anne Ballin
Leeds City Academy
6.40pm Warriors 20-0 Tigers
Charlotte Morris & Marian Lekaki
7.20pm Ballers 19-21 Jet Ballers
Amanda Schofield & Sophie Longdon
8pm Mix Up's 20-13 Flaming Hoops
Caroline Broad & Chloe Caygill
8.40pm All Saints 19-25 Flaming Hoops
Izzy Taylor & Katie Gajdosova
Thursday 4th August 
The Edge
7pm Koalas 37-24 Mix Up's
Verity Barbour & –
7.40pm Stormers 24-20 Amity
Tonyee Paul & Nicola Stiff
8.20pm Flaming Hoops 17-30 Amity
Charlotte Surr & Nicola Stiff
Leeds City Academy
6.40pm Jet Ballers 37-6 Anne Ballin
Lindsay Mitchell & Rianne Docteur
7.20pm Gems 21-17 Warriors
Jenny Twentyman & Chelsea Davidson
8pm Ballers 17-18 Tigers
Jessica Lofthouse & Lauren Falk
8.40pm Gryphons 16-14 All Saints
Tasneem & Katie Huet
Thursday 11th August
The Edge
7pm Gryphons 15-16 All Saints
Jess Noble & Tilly Seanor
7.40pm All Saints 11-28 Flaming Hoops
Tilly Seanor & Charlotte Surr
8.20pm Amity 23-24 Koalas
Hannah Jordan & Lucy Doran
Leeds City Academy
6.40pm Mix Up's 31-34 Stormers
Catherine Gray & Megan Anderson
7.20pm Anne Ballin 0-20 Warriors
8pm Jet Ballers 29-12 Tigers
Sophie Longden & Aimee Halifax
8.40pm Gems 16-15 Ballers
Beth Burnhill & Lindsay Warren
Thursday 18th August
The Edge
7pm Flaming Hoops vs Gryphons
7.40pm Stormers vs Amity
8.20pm Mix Up's vs Stormers
Leeds City Academy
6.40pm Gems vs Jet Ballers
7.20pm Koalas vs All Saints
8pm Warriors vs Ballers
8.40pm Anne Ballin vs Tigers
Thursday 25th August
The Edge
7pm Flaming Hoops vs Gryphons
7.40pm Koalas vs Gryphons
8.20pm Stormers vs All Saints
Leeds City Academy
6.40pm Gems vs Tigers
7.20pm Anne Ballin vs Ballers
8pm Amity vs Mix Up's
8.40pm Warriors vs Jet Ballers
Thursday 1st September
The Edge
7pm Flaming Hoops vs Koalas
7.40pm Flaming Hoops vs Amity
8.20pm All Saints vs Mix Up's
Leeds City Academy
6.40pm Warriors vs Tigers
7.20pm Ballers vs Jet Ballers
8pm Gems vs Anne Ballin
8.40pm Gryphons vs Stormers

Thursday 8th September
The Edge
7pm Stormers vs Flaming Hoops
7.40pm Amity vs All Saints
8.20pm Koalas vs All Saints
Leeds City Academy
6.40pm Jet Ballers vs Anne Ballin
7.20pm Gems vs Warriors
8pm Mix Up's vs Gryphons
8.40pm Ballers vs Tigers
Thursday 15th September
The Edge
7pm Stormers vs Koalas
7.40pm Amity vs Gryphons
8.20pm Mix Up's vs Flaming Hoops
No Game – All Saints
Grading/Friendly Games –
Leeds City Academy
6.40pm Jet Ballers vs Anne Ballin
7.20pm Gems vs Ballers
8pm Warriors vs Tigers
New season starts Thursday 22nd September with new sides ready to join!!
Want to get involved?
We have leagues for everyone from just women based leagues to one of the countries biggest mixed leagues. Compete in high quality games and experiences for beginners, social players as well as elite players.
Join us