Pudsey Leisure Centre - Sunday's
This weeks fixtures
Sunday 21st August
Pudsey Leisure Centre
4pm Harmony vs Red Hot Chilli Netters
5pm Dollies vs Hustle
No game – Horsforth Hustlers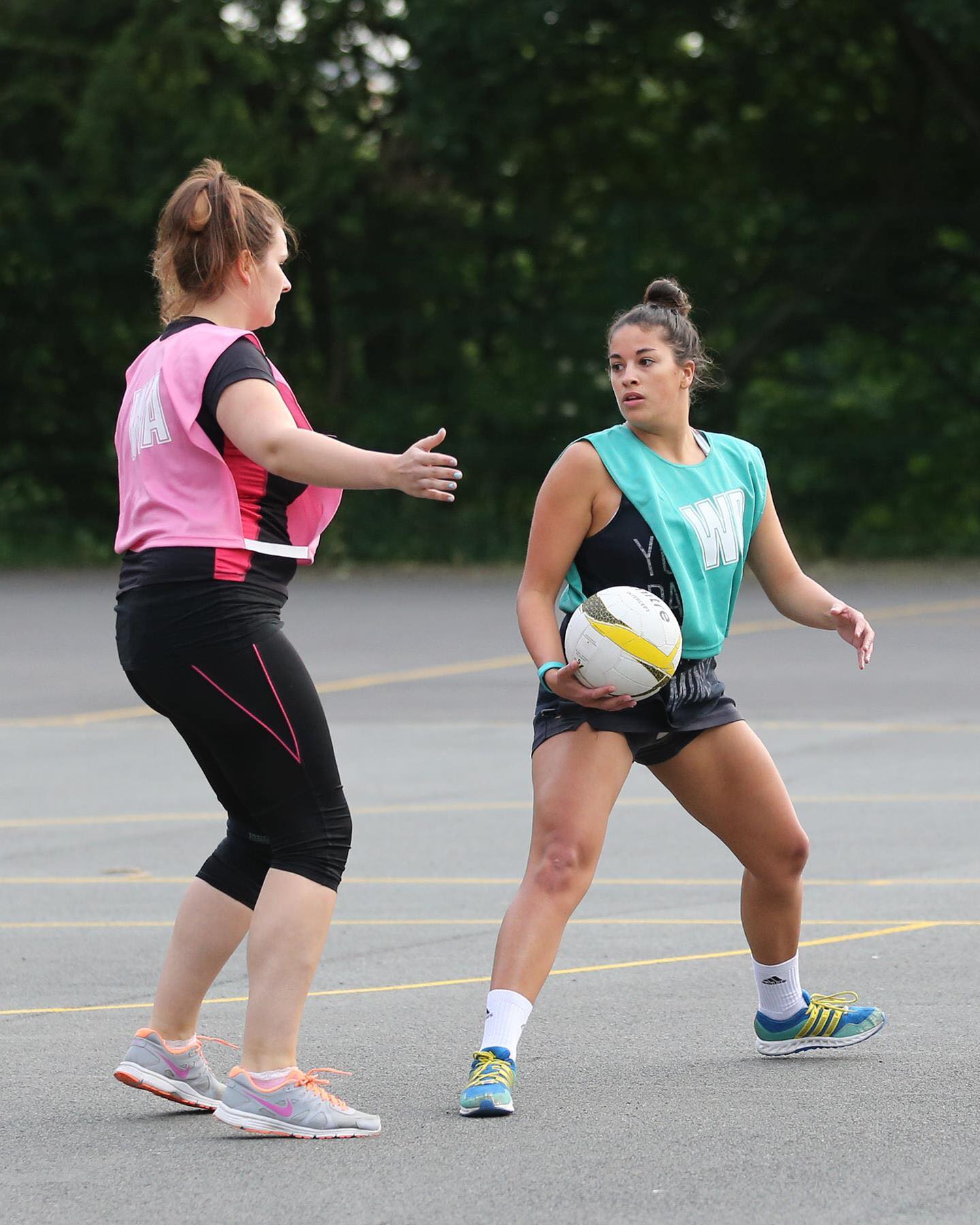 Sunday 10th July
Pudsey Leisure Centre
4pm Dollies 44-43 Harmony
Laura Pickering & Lucy Cornthwaite
5pm Hustle 44-11 Horsforth Hustlers
Hannah Escobar & Hannah Wills
No game – Red Hot Chilli Netters
Sunday 17th July
Pudsey Leisure Centre
4pm Harmony 48-32 Red Hot Chilli Netters
Shell Castle & Michelle Jefferson
5pm Dollies 24-57 Hustle
Phillippa Stanworth & Jenna Hall
No game – Horsforth Hustlers
Sunday 24th July
Rescheduled due to injury
Pudsey Leisure Centre
4pm Harmony vs Horsforth Hustlers
5pm Dollies vs Red Hot Chilli Netters
No game – Hustle
Sunday 31st July
Pudsey Leisure Centre
4pm Red Hot Chilli Netters 44-54 Horsforth Hustlers
Michelle Jefferson & Hannah Wills
5pm Hustle 52-32 Harmony
Lucy Grieveson & Abbie Schofield
No game – Dollies
Sunday 7th August
Pudsey Leisure Centre
4pm Horsforth Hustlers 57-36 Dollies
Ciara Phillip & Lauren Falk
5pm Hustle 50-33 Red Hot Chilli Netters
Lottie Mackrill & Michelle Jefferson
No game – Harmony
Sunday 14th August
Pudsey Leisure Centre
4pm Dollies 47-24 Harmony
Lucy Blackwood & Lucy Cornthwaite
5pm Hustle 40-25 Horsforth Hustlers
Snez & Anna Halliday
No game – Red Hot Chilli Netters
Sunday 21st August
Pudsey Leisure Centre
4pm Harmony vs Red Hot Chilli Netters
5pm Dollies vs Hustle
No game – Horsforth Hustlers
No Game Bank Holiday Weekend
Sunday 4th September
Pudsey Leisure Centre
4pm Harmony vs Horsforth Hustlers
5pm Dollies vs Red Hot Chilli Netters
No game – Hustle
Sunday 11th September
Pudsey Leisure Centre
4pm Red Hot Chilli Netters vs Horsforth Hustlers
5pm Hustle vs Harmony
No game – Dollies
Sunday 18th September
Pudsey Leisure Centre
4pm Horsforth Hustlers vs Dollies
5pm Hustle vs Red Hot Chilli Netters
No game – Harmony
Sunday 25th September
Pudsey Leisure Centre
4pm Harmony vs Horsforth Hustlers
5pm Dollies vs Red Hot Chilli Netters
No game – Hustle
New Season starts Sunday 2nd October – Get in touch to secure your place!
Want to get involved?
We have leagues for everyone from just women based leagues to one of the countries biggest mixed leagues. Compete in high quality games and experiences for beginners, social players as well as elite players.
Join us